Gregory Cook, the CEO of Cook Construction, will be running 40 miles with the goal of raising $40,000 in support of the Prostate Cancer Foundation. Statistics show that 1 in 8 men will be diagnosed with prostate cancer in their lifetime. Gregory will run to raise awareness for cancer prevention, including the importance of prostate cancer screening as early as 40 years old. Having experienced the passing of one of his dear clients from a battle with prostate cancer, Gregory wants to demonstrate that while running 40 miles is an incredible challenge, it is nothing compared to what families struggling against cancer go through. Gregory will be running from the Cook Construction Headquarters in San Francisco to Brewsters in Petaluma where he resides. The finish line will serve as a place of celebration and victory.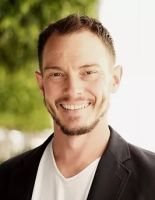 "Having experienced two clients I was close with battle prostate cancer, one devastatingly losing that battle, I knew I wanted to do something special for my 40th birthday to raise awareness around the horrific disease, and how important it is to get tested at this age. My goal for my run is to help fund an incredible foundation that works tirelessly to research a cure for prostate cancer." - Gregory Cook
Please join us in supporting Gregory's efforts by making a donation on this page.